DOCUMENT: Crime
Cops: Doctor Took Naked Pix Of His Patients
Arkansas gynecologist, 68, facing five felony raps
APRIL 16--An Arkansas gynecologist is facing video voyeurism charges after he allegedly used his cell phone to take nude photos of patients during office exams.
Police began investigating Paul Becton, Jr. earlier this month after a patient told cops that she was concerned that the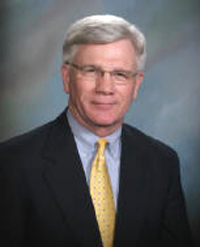 68-year-old doctor "produced his cellular telephone and took photographs of her pubic region and buttocks" during an office visit, according to an arrest affidavit.
Becton is seen in the adjacent photo from his web site, which notes that he has practiced for over 30 years and is "very knowledgeable in the latest surgical techniques and women's health issues."
Armed with a search warrant, Arkansas State Police investigators seized Becton's phone during an April 10 visit to his office in Paragould, a city about 20 miles northeast of Jonesboro.
A subsequent analysis of Becton's phone revealed "numerous images of nude females that appear to have been taken in a medical office during medical examinations." The photos were found "in the deleted images within the hard-drive" of the phone.
Investigators also noted that, "Also recovered during the examination were what appear to be photographs of the victim who reported this incident" to Paragould cops. The woman subsequently identified five "nude photographs that were taken without her knowledge or consent."
Becton, who maintains a private OB/GYN practice at the Arkansas Methodist Medical Center, has been charged with five felony voyeurism counts related to the naked images of the woman who contacted police.
A bench warrant has been issued for Becton, who remains at large, according to investigators. (3 pages)