DOCUMENT: Celebrity, Florida
Settlement In Donald Duck Groping Lawsuit
Woman alleged Disney character fondled her at Epcot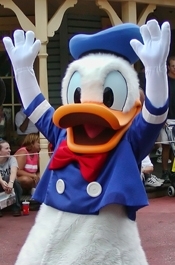 View Document
MAY 12--The Pennsylvania woman who alleged that she was fondled by Donald Duck during a visit to Epcot Center in Florida has settled her lawsuit against Disney, federal court records show.
April Magolon's complaint, filed last August against Walt Disney Parks and Resorts, was formally dismissed today by Judge John Padova in U.S. District Court in Philadelphia. The judicial order came a day after lawyers for the parties reported that the matter had been settled. Magolon's attorney, Michael Pansini, sought dismissal of the lawsuit "with prejudice," meaning that the action could not be refiled.
The court filings do not disclose settlement terms, which presumably included a payment to Magolon, a 28-year-old Upper Darby resident. The settlement came prior to Magolon or Disney filing motions or pretrial memorandums in the case, which involved claims of negligence, battery, and infliction of emotional distress.
According to her complaint, Magolon (pictured at right) was visiting Epcot with her children and fiancé in May 2008 when she was groped by a Disney employee dressed like Donald Duck as she sought an autograph. After the incident, Magolon charged, Donald Duck made gestures "indicating he had done something wrong." Magolon's complaint sought in exceess of $50,000 in damages.
Magolon contended that her fondling at the puffy hands of the cartoon character caused her to suffer "severe physical injury, emotional anguish and distress including, but not limited to post-traumatic stress disorder." Court filings indicated that she was prepared to support these claims with testimony and records from her clinical psychologist.
Additionally, Pansini reported, Magolon had "Video of the events of May 20, 2008" that could be used to support her claims. A ban on the distribution or broadcast of that video would likely have been part of the legal settlement. Pansini did not respond to a phone message or an e-mail seeking comment about the settlement. (6 pages)