DOCUMENT: Sports, Crime
Tiger Woods "Pop Art" Bust
Federal rap for Colorado man who altered Gatorade bottles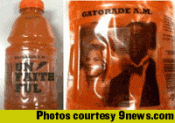 View Document
JANUARY 13--A Colorado artist who replaced the labels on 100 Gatorade bottles with a picture of Tiger Woods and his wife and the word "unfaithful"--and then returned the items to store shelves--has been charged with tampering with the sports drink, The Smoking Gun has learned.
According to an affidavit filed yesterday in U.S. District Court in Denver, Jason Kay admitted to a U.S. Food and Drug Administration agent that he was responsible for the label swap, which he described as "pop art" in the style of Andy Warhol.
The 38-year-old Kay, who said he acted alone, told agent Daniel Burke that he purchased the bottles, removed the labels, and then affixed new labels that he "created by using a photocopier and clear adhesive at Kinko's." He also provided the investigator with a $6 receipt from a Longmont Kinko's on which he had written "pop art."
Before being contacted by federal agents, Kay exchanged e-mails with a PepsiCo representative via an address he included on the adulterated bottles. In a January 10 note, Kay raised the possibility of working out a partnership in which the beverage firm would "participate unofficially (while denying this connection) by providing support to the artist for travel and per diem in various cities," claiming it would be "good for Gatorade and good for art."
Kay reportedly believed that Gatorade would be happy for the "positive press" after the drink stopped using Woods as a pitchman. Instead, Kay has been hit with a felony charge and two misdemeanor counts, which carry a combined maximum of five years in federal prison. (7 pages)