DOCUMENT: Crime
The Mafia's "American Blast"
Feds: Gambino hood laundered money through his energy drink firm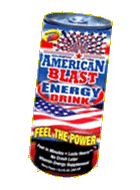 View Document
JUNE 2--Red Bull has joined Sammy the Bull as a target of the Gambino organized crime family.
A powerful associate of the Mafia group once headed by John Gotti last year began marketing an energy drink called "American Blast" and used the beverage firm to launder the proceeds from his criminal operations, prosecutors allege.
Joseph "Joe the German" Watts was charged yesterday with racketeering in a superceding indictment filed in U.S. District Court in New York. Watts, 67, is a veteran Gambino figure and a prodigious earner who was among the late Gotti's closest confidantes. Investigators allege that Watts, pictured at right, funneled money he made from extortion, gambling, and loansharking operations into American Blast, which is fronted by his daughter Robyn (like her father, Robyn, 26, uses the surname Russo in business dealings).
American Blast, which operates from an office on East 57th Street in Manhattan, was launched last year with a party featuring a performance by the rapper Fat Joe (who is pictured here with Robyn Watts). The company markets several different energy drinks, most of which are packaged with red, white, and blue labels, and carry the slogan "Feel The Power."
On the company's web site, American Blast is described as an "All American Woman owned Company" headed by "Robyn Russo," who was working as a high school counselor before founding the firm. While training for her first marathon last year, "Russo" noted that she tried so many energy drinks that did not work or tasted terrible, she "saw a need for a great tasting and effective energy drink and American Blast was born."
It is unclear whether American Blast has helped with her splits, but Watts/Russo probably could not run any slower than she did in last April's Country Music Marathon in Nashville, Tennessee. Running as Robyn Watts, she completed the race in seven hours, 41 minutes, which placed her 4397 out of 4401 finishers (Watts beat three women and one man).
Joseph Watts, who has been incarcerated since his February arrest, faces life in prison if convicted of racketeering and the murder of a government witness. According to mob turncoat Salvatore "Sammy the Bull" Gravano, Watts helped Gotti & Co. plan the rubout of former Gambino boss Paul Castellano, who was felled in December 1985 by several Italian-American blasts. (6 pages)