DOCUMENT: Crime
It Ain't Just Paint
An Ohio arrestee goes for the gold in classic mug shot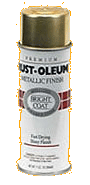 JULY 21--Meet Patrick Tribett.
The Ohio man was nabbed yesterday morning for "abusing harmful intoxicants" as he attempted to make a purchase at Bellaire's Dollar General Store. The 41-year-old Tribett, it seems, had been huffing spray paint and needed a refill.
According to a Bellaire Police Department report, Tribett's pupils were constricted and he replied slowly to their questions. Oh, and "officers observed the paint on face and hands," as can be seen in this mug shot.
Tribett, who was previously busted for assault, domestic violence, and inhaling harmful intoxicants, was booked into the Belmont County Sheriff's Office lockup. His booking photo immediately joins TSG's pantheon of favorite kooky mug shots like this one, this one, this one, and, of course, this one. (2 pages)