DOCUMENT: Funny, Crime
The Grey Poupon Avenger
Cops: Utah motorist pulled gun on mustard-seeking prankster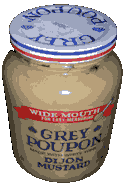 View Document
JULY 23--Meet Vitaly Kovtun.
According to Utah cops, Kovtun was behind the wheel last month when a car pulled up to his SUV at an intersection. After gesturing to the 22-year-old Kovtun to roll down his window, passenger Stephen Cox asked, "Excuse me, sir, do you have any Grey Poupon?" Kovtun responded, police charge, by pulling a handgun from his glove compartment, cocking the weapon, and leveling it at the prankster's auto.
"Here's your Grey Poupon, roll your f***ing windows up," Kovtun said, according to a probable cause affidavit.
Kovtun was charged yesterday for the June 18 incident, having been tracked down by cops after another occupant of the second car wrote down his license plate number. When questioned by police, Kovtun admitted that he, "pulled out his handgun and racked the slide back towards the victims in a threatening manner," according to the July 22 District Court affidavit.
Charged with felony aggravated assault, Kovtun was booked yesterday into the Salt Lake County jail, where his mug shot was snapped. (4 pages)