Buster
Cops: Tipsy Floridian Pleasured Herself With Help Of Female Officer's Arm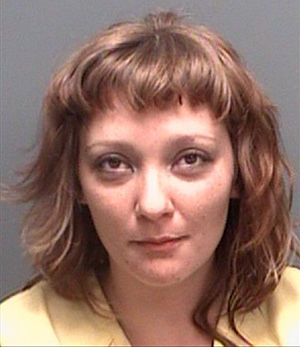 Meet Nicole Shankster.
While sitting in a bus shelter last Tuesday afternoon, the 34-year-old Floridian was enjoying a bottle of Skol Vodka while "simulating sex acts" for the enjoyment of motorists caught in rush hour traffic on the adjacent street.
Then things got weird.
When police arrived to arrest Shankster, the Clearwater resident repeatedly used a racial epithet when addressing a black cop. Then, as Shankster was being restrained from "masturbating while in police custody," the defendant "did intentionally sexually satisfy herself on my left arm and lick my right arm," reported Officer Ashley Mehler.
An arrest affidavit does not further describe this icky encounter, which resulted in a felony battery on a law enforcement officer count being filed against Shankster (who was also charged with disorderly intoxication).
Seen above, Shankster is locked up in lieu of $5100 bond.