DOCUMENT: Fail, Crime
Drug Kingpin Did Not Admit Assault On Tupac Shakur
Rosemond denied role in 1994 attack on rapper
JULY 3--During nine separate meetings with federal prosecutors and DEA agents late last year, hip-hop manager James Rosemond admitted to an array of felonious conduct--homicide, narcotics trafficking, money laundering, obstruction of justice, etc.--as he tried to strike a cooperation deal that would spare him from dying in prison.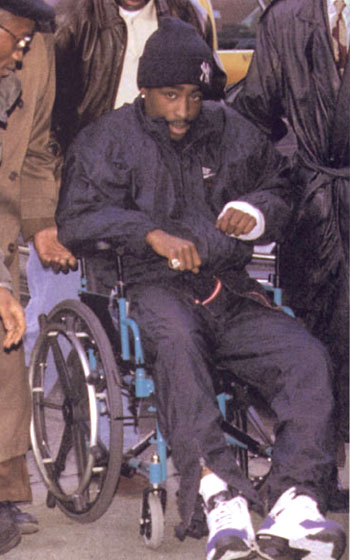 But one crime for which Rosemond steadfastly denied any role was the non-fatal November 1994 robbery/shooting of Tupac Shakur in Manhattan.
Despite recent reports that Rosemond confessed to involvement in the ambush of the rap star, three sources familiar with the proffer sessions told TSG that Rosemond, in fact, flatly denied any involvement in the incident at Quad Recording Studios near Times Square.
Rosemond, 47, was questioned about the Shakur attack during an early-October proffer session in the U.S. Attorney's Office in Brooklyn. The meeting was attended by Rosemond; his lawyer Gerald Shargel; prosecutor Todd Kaminsky; and DEA Agent Edward Tracy. The nine proffer sessions did not result in a cooperation deal for Rosemond.
While denying involvement in the Shakur assault, Rosemond--who is facing life in prison following his conviction last month for narcotics trafficking and other felonies--did not hesitate to implicate himself in two separate unsolved murders.
Rosemond copped to ordering and financing the September 2009 killing of Lowell Fletcher, who had assaulted Rosemond's teenage son during a street confrontation 30 months earlier. He also admitted his role in a June 1983 armed robbery at a Brooklyn social club that ended with a male victim, Wayne Middleton, being shot to death. Rosemond, then 18, was originally charged with second-degree murder for Middleton's killing, but that count was later dropped when he could not be identified in a police lineup, according to state court records.
Rosemond was recently indicted for his alleged role in Fletcher's murder, and could face the federal death penalty as a
result. He is already looking at life in prison as a result of his conviction for running a nationwide cocaine distribution ring.
The claim that Rosemond (pictured at left) had "secretly admitted to involvement in Tupac's ambush" was published last month in The Village Voice, which noted that "rap's longest running crime mystery has finally been solved." The story's author, Chuck Philips, cited Rosemond's purported confession as evidence of the veracity of a controversial--and later retracted--March 2008 story he wrote while employed as a reporter at the Los Angeles Times.
The June 12 Voice story about Rosemond's Shakur proffer was reported widely in the hip-hop press and in outlets like Rolling Stone, The Hollywood Reporter, and Black Entertainment Television.
Philips's 2008 story claimed that Rosemond, Sean "Diddy" Combs, and other conspirators orchestrated the November 30, 1994 attack on Shakur (who would die two years later after being shot in Las Vegas). As TSG first revealed, the Times story relied on FBI reports that had been fabricated by James Sabatino, an imprisoned con man who also doubled as a source for Philips's story.
In addition to retracting its story, the Times later paid Rosemond $250,000 to avoid a threatened libel lawsuit.
The Voice story rested on a passing comment that was made by prosecutor Soumya Dayananda at a sidebar with Shargel and Judge John Gleeson on May 14, the opening day of Rosemond's narcotics trial in U.S. District Court in Brooklyn.
During his opening argument, Shargel attacked Philips by name, termed the 2008 Times story about the Quad shooting "utterly false," and told jurors that Rosemond had nothing to do with Shakur's assault (a crime for which the music manager has never been charged).
At the sidebar, Dayananda argued that Shargel's comments had opened the door for the government to introduce into evidence statements Rosemond had made during proffer sessions about "acts of violence," including the 1994 Shakur shooting. The prosecutor noted that if Shargel "is going to argue this was a fabricated article, it's the government's
position that we can put in the defendant's own admission about that particular shooting."
Dayananda, however, had either misspoken or mixed up her facts. She and two other prosecutors had inherited the Rosemond case in March since Kaminsky was set for trial in a political corruption case. None of the three new prosecutors had participated in any of the Rosemond proffer sessions, the last of which occurred on December 21.
While Dayananda had copies of reports detailing what was discussed during those proffers, she nonetheless butchered what Rosemond said about the Quad Studios incident. In a TSG interview, a Department of Justice official described Dayananda's gaffe as an "honest mistake."
Compounding matters--at least for Philips (seen above) and the Voice--was the fact that Dayananda's error was not challenged at the time by Shargel. Tellingly, during the balance of the Rosemond trial, prosecutors elicited no testimony whatsoever--from either federal agents or ex-Rosemond allies who were flipped--about the Quad Studios attack. Nor was there another mention made of Rosemond's purported "admission about that particular shooting."
In the wake of Philips's story about Rosemond's confession about the Shakur attack, the convicted drug kingpin's spokesperson pounced, alleging that the piece was further evidence of a vendetta being carried out by the reporter. In a statement, Sibrena de Fernandez told reporters, "Trust me, when Jimmy comes home, he's going to beat the shit out of Chuck Philips."
While threatening a journalist in the name of your imprisoned client--who happens to be under indictment for homicide conspiracy--might seem like poor message discipline for a flack, de Fernandez assured TSG that Rosemond did not tell her what to write, nor did Shargel vet her statement. "I can say whatever I want," she added.
Philips responded to the threat by writing directly to Gleeson last week, making sure to include a copy of de Fernandez's statement. He asked the federal judge, "What kind of a moron would issue a physical threat in a national press release?" (4 pages)