DOCUMENT: Celebrity, Sex
New Shirtless "Elmo" Accuser Files Lawsuit
New Yorker, 24, claims underage sex with puppeteer
View Document
NOVEMBER 20--Here's the lawsuit filed today by a 24-year-old New York City man who alleges that he engaged in underage sexual contact with Elmo puppeteer Kevin Clash--and just realized that he has suffered "adverse psychological and emotional effects" as a result of that alleged relationship.
In a U.S. District Court complaint, Cecil Singleton, 24, claims that he met Clash on a gay chat line about nine years ago, when he was 15. Singleton alleges that Clash, 50, trolled such chat line rooms "to meet and have sex with underage boys."
Clash, Singleton charges, was secretly "preying on teenage boys to satisfy his depraved sexual interests," while working for Sesame Street, where his life was "centered around the entertainment of toddlers." Clash resigned his Sesame Street job today, saying that "personal matters have diverted attention away from the important work Sesame Street is doing and I cannot allow it to go on any longer."
Singleton, whose lawsuit is seeking damages in excess of $5 million, claims that Clash coerced him into "numerous" sexual encounters by "among other things, taking him to nice dinners and giving him money."
According to the lawsuit, Singleton only recently became aware of the damage caused by his
sexual relationship with Clash. That realization, of course, coincided with media reports that a Pennsylvania man had charged that he was only 16 when he began engaging in sexual activity with Clash.
Singleton's complaint was filed by Jeff Herman, a Miami attorney who has previously handled several high profile cases brought by alleged sexual abuse victims. Last week, Herman wrote on his law firm's blog that he was disappointed with media coverage of the first Clash accuser's claims.
When Herman this morning filed the original complaint against Clash, it asserted that Singleton began having sex with Clash in 1993 (when the accuser would have been five). An amended copy of the complaint noted that Singleton was born in 1988 and that the alleged sexual activity with Clash commenced around 2003.
As seen above, Singleton's Facebook and MySpace pages are filled with provocative photos (click to enlarge) of Clash's accuser, who lives in Harlem and describes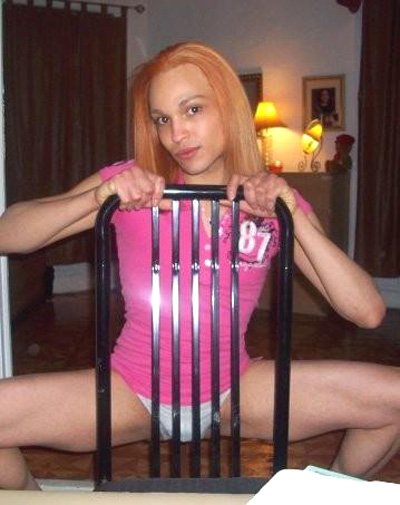 himself as a "complex and different individual" who prides himself on being "subversive and original." Several photos show him frolicking on the beach.
On his Facebook page, Singleton writes that, "I think one of the most important things in this life is to have a positive impact on the people around you and to have ambition to be the kind of person you can be proud of."
Last May, Singleton uploaded the above photo showing himself mooning the camera while in a New York City subway car (he had dropped his jeans to reveal underwear imprinted with the word "Gorgeous"). In an accompanying caption, Singleton wrote that while his mother has accused him of being an "exhibitionist," he was "raised to see my body as beautiful. So as an adult, I perceived it as exactly that." Adding that he appreciates "every curve and sex appeal," Singleton declared, "So if I decide to take erotic pictures, or flash my 'poonanie', it is my prerogative & there isn't a damn thing wrong with it."
Singleton's MySpace profile describes him as gay and lists his heroes as "Catwoman Xena Buffy Angelina Jolie." (5 pages)