DOCUMENT: Crime
What A Maroon (And Orange)
North Carolina bank robber busted in Virgina Tech t-shirt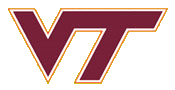 View Document
APRIL 20--On a day that mourners nationwide wore Virginia Tech's orange and maroon colors in a show of solidarity for victims of Monday's massacre, a man wearing a shirt with the school's logo was arrested this morning shortly after robbing a North Carolina bank.
According to police, Robert Kirk Newton, 39, walked into a Carolina Beach branch of First Citizens Bank at 9:05 AM and handed a teller a note claiming he had a gun and which demanded "all the money." The teller handed Newton $2500 in a paper bag. She also placed a red dye pack in the bag, which exploded before Newton fled the bank.
Newton was apprehended within minutes by police, who confiscated a knife used in the robbery. Newton, pictured at left in a Carolina Beach Police Department mug shot, was wearing an orange t-shirt with Virginia Tech's logo in maroon.
A police press release further describes Newton's attempted robbery/tribute. (3 pages)