DOCUMENT: Stupid, Crime
Meet Mr. Subway 2008
Florida man busted for calling 911 over improperly prepared sandwich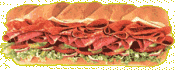 UPDATE: Click here to listen to Peterson's three 911 calls (MP3)
AUGUST 5--If you're wondering what the guy who called 911 to complain about his Subway sandwiches looks like, well, meet Reginald Peterson.
The 42-year-old Florida man became so upset last Thursday when a pair of subs "did not include 'everything' as he had requested," he called Jacksonville cops "so that the police could have his sandwich made to his specifications," according to a Jacksonville Sheriff's Office report.
Peterson, pictured in the mug shot at left, was arrested on a misdemeanor charge of placing false 911 calls. A Subway employee told cops that an irate Peterson was "screaming at everyone in the business" because a worker could not seem to rectify the sandwich problem.
As for the fate of the Subway grub, the sheriff's report notes, "The sandwiches were placed in a trash can at the suspect's request." (3 pages)