DOCUMENT: Crime
FBI Arrests Passenger For In-Flight Molest
Virginia man, 39, facing rap for airborne sexual contact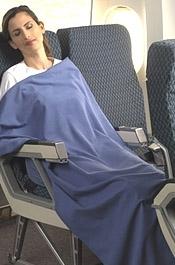 APRIL 11--The FBI yesterday arrested a 39-year-old man for allegedly molesting a sleeping female passenger on an American Airlines flight en route from Miami to Regan National Airport in Virginia.
Saurabh Agarwal was named today in a felony complaint charging him with engaging in abusive sexual contact with the victim, who is identified only by her initials, "R.C.L." Agarwal,
who was born in India and lives in Sterling, Virginia, is jailed in advance of a detention hearing tomorrow afternoon in U.S. District Court in Alexandria.
In a sworn affidavit, FBI Agent David Wiegand reported that "R.C.L" was seated next to Agarwal on American Airlines Flight 1142, which departed Miami around 5:45 PM. After falling asleep following departure, the woman awoke to find Agarwal "hugging her body, with his hand inside her bra, fondling her breast."
"Because of fear," however, the woman "pretended to be asleep." Wiegand noted that Agarwal "kept squeezing R.C.L.'s body tighter" and "squeezed her nipple." The woman, who was in the window seat, told investigators that she "did not show that she was awake due to being scared of" Agarwal.
When a flight attendant approached with a refreshment cart, Agarwal "moved off the victim," only to subsequently return to touching her as she continued to pretend to be sleeping. Agarwal, Wiegand charged, also leaned up against the woman and "pressed his legs up against R.C.L.'s legs."
The woman then said that she "needed to use the restroom, left her seat, and went to the back of the Boeing 737-800, where she told the flight crew what had happened," Agent Wiegand reported.
A second woman, who was in the aisle seat next to Agarwal, told agents that she observed him "hugging R.C.L., smelling her, and putting his hand in her shirt." The woman "assumed defendant and R.C.L. were traveling together," adding that she was "irritated by the defendant's behavior."
The witness said that after "R.C.L." left their row, Agarwal touched her leg, claiming he had dropped his drink. The woman, Wiegan noted, "quickly jumped up and went to the back of the plane." There, she "observed R.C.L. crying" and realized that "Defendant and R.C.L. did not know one another."
Agarwal was detained en route to Virginia by federal air marshals assigned to the flight. If convicted of the federal felony charge, Agarwal faces a maximum of two years in prison. (3 pages)