Buster
Meet The Polite Florida Teenager Who Was Berated By That Crazy Dunkin' Donuts Woman
The courteous Dunkin' Donuts employee who endured the unhinged rantings of that crazy female customer is an 18-year-old who just graduated from a Florida high school and earns around $8 an hour serving Coolattas and Munchkins to patrons at the Fort Lauderdale eatery.
In a TSG interview, Abid Adar said that he and another employee were the only ones working at the North Federal Highway store Friday night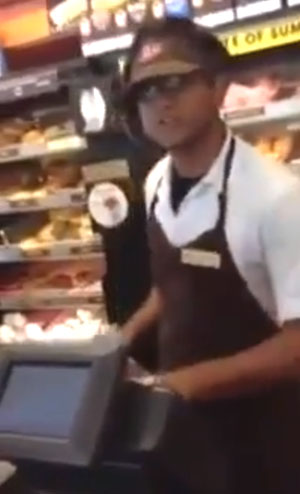 when Taylor Chapman, 27, and her friends placed an order at the drive-thru window.
After Adar's coworker was slow to provide Chapman with a receipt, she argued that her group's food should be free, per a store policy that guarantees a customer's order will be comped if they are not given a receipt.
Adar's coworker Nithi--who was manning the drive-thru window--explained to Chapman that she would have to speak with a manager the next day about the refund request. Chapman returned to Dunkin' Donuts the following morning ready to precipitate a confrontation, which she subsequently filmed with her iPhone.
As seen on the video, Adar remains polite and composed in the face of Chapman's unrelenting boorishness. "I'll give you your order free. Whatever you ordered yesterday I can give it to you for free," he tells Chapman. "Whatever you want, I'll get it for you."
The teenager (pictured in the above screen grab) never responds in kind to Chapman's vulgarities or provocations. "I'm very sorry about that," he replied when she complained about her purported mistreatment at the Dunkin' Donuts, which is about 2.5 miles from the Oakland Park apartment Chapman shares with her boyfriend. Asked about his cool demeanor, Adar said, "We were just trying to be nice."
For her part, Chapman spewed a steady stream of insults and inanities. She called Nithi a "complete cunt sand nigger whore" while also remarking, "I just want my bacon crispy and my people to be nice."
Adar told TSG that while he was aware of the video Chapman shot--and later posted online--he had not viewed it. He learned of the video's existence when a former coworker of Chapman's (who had seen the video on her Facebook page) called Dunkin' Donuts and "apologized for her behavior."
The teenager, who said he had never encountered a customer as belligerent as Chapman, began frequenting Dunkin' Donuts about three years ago, when he would help out his mother, who worked at the eatery. In the fall, Adar--who wants to be a doctor--begins attending Florida Atlantic University in Fort Lauderdale.