DOCUMENT: Celebrity, Crime
Trump Vouched For Cocaine Trafficker
Candidate called felon "credit to the community"
FEBRUARY 16--Presidential contender Donald Trump, who has vowed to stanch the flow of narcotics and criminals entering the U.S. from Mexico, once wrote to a judge urging leniency for a friend who was convicted of distributing kilos of cocaine that had been smuggled into the country from Colombia, court records show.
In advance of Joseph Weichselbaum's November 1987 sentencing by a U.S. District Court judge, Trump wrote that the drug trafficker was "conscientious, forthright, and diligent" and "a credit to the community."
At the time Trump wrote his character reference letter, Weichselbaum, then in his mid-40s, was already a twice-convicted felon. In addition to his 1986 plea to federal cocaine distribution and income tax charges, Weichselbaum's rap sheet included prior convictions for grand theft auto and the embezzlement of more than $130,000 from a Brooklyn manufacturing firm where he worked for a decade.
Weichselbaum, who peddled drugs and palled around with wiseguys, seemed an odd choice for Trump to publicly embrace. Especially since the developer--who has never been known for empathetic gestures--owned casinos monitored by New Jersey regulators on the alert for licensees who maintained business or personal relationships with unsavory types.
In a court filing that referred to the laudatory correspondence sent by Trump and other Weichselbaum cronies, a federal prosecutor mocked the letters. Weichselbaum, the government lawyer wrote, used his friends to vouch for his redeeming qualities and claim that his criminal activities were a one-time aberration and "totally out of his character." These friends, prosecutor Ann Marie Tracey sneered, apparently were "unaware of defendant's previous convictions and his extensive drug dealings." Weichselbaum, the prosecutor noted in another filing, "was a felon even before becoming a drug dealer."
When Trump wrote on Weichselbaum's behalf, the real estate developer had known the criminal for several years. Weichselbaum, seen at left, was general manager of a helicopter company that shuttled high rollers for Trump to the tycoon's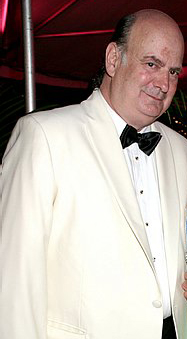 Atlantic City casinos, business that was worth about $2 million annually. Weichselbaum's firm also maintained, stored, and provided pilots for Trump's personal $10 million Super Puma helicopter.
[Another felon with whom Trump was friendly was also in the helicopter business. John Staluppi, a Colombo crime family member, was an owner of Dillinger Charter Services, which flew gamblers into Atlantic City on behalf of Trump and other casino licensees. As TSG reported last year, Staluppi also worked closely with the billionaire to create the Donald Trump signature series Cadillac limousine, which debuted in 1988.]
The Weichselbaum missive, which was first disclosed in journalist Wayne Barrett's investigative biography of Trump, appears to be the only time the Republican presidential candidate has written a pre-sentencing letter vouching for a convicted criminal. Trump once provided character testimony for attorney Roy Cohn, but that was during proceedings that eventually resulted in the execrable legal fixer's disbarment.
Weichselbaum, 74, did not respond to numerous TSG e-mail and phone messages, as well as interview requests passed through two family members. He recently moved to Los Angeles after spending many years living in a sprawling Long Island estate with his longtime companion and the couple's daughter.
In October 1985, Weichselbaum was named in an 18-count indictment charging him with selling marijuana and cocaine to clients who then distributed the drugs in Ohio, Kentucky, and North Carolina. Prosecutors alleged that, over a two-year period, Weichselbaum ran his narcotics operation from Miami, Florida, where he was a playboy who lived in a Biscayne Boulevard condo and worked at an auto dealership founded by his younger brother Franklyn.
In Miami, Weichselbaum ran with a crowd that included fellow narcotics traffickers and assorted mafioso, according to court and law enforcement records. In the early-70s, Weichselbaum was a regular competitor on the offshore racing circuit and piloted powerboats like "Mighty Mouse" and "Nuts 'n Bolts." In a 1973 race in Miami, Weichselbaum finished third in a competition won by Cigarette
boat designer Don Aronow, who was killed gangland-style in 1987. Financier Charles Keating, Jr., who came in second, would later be imprisoned for fleecing investors in the notorious Lincoln Savings and Loan Association scandal.
Weichselbaum, a Brooklyn native, cut a distinctive figure. At a slender 6' 2", he was easily identifiable thanks to a prominent nose and a head that was bald but for a halo of hair ringing his skull. And Weichselbaum was also a notorious cokehead. In one court motion, Weichselbaum's lawyer contended that his client's drug trafficking was an outgrowth of his "addiction to cocaine, compounded by an extremely stressful marriage." The filing did not further detail how Weichselbaum's wife, his second, drove him to sell cocaine at $50,000 per kilo.
Immediately following his bust, Weichselbaum told a Trump aide about the criminal charges lodged against him in federal court in Cincinnati, Ohio (where some of the cocaine sold by Weichselbaum was transported and broken down for retail sale).
Two months after Weichselbaum's indictment, the drug trafficker rented a Manhattan apartment directly from Trump, who presumably was aware that his lessee was facing the prospect of spending decades in less swanky environs. The two-bedroom coop unit, in Trump Plaza on East 61st Street, was owned by Trump himself and cost $7000 per month. Weichselbaum made his rent checks out to "Donald J. Trump," and sometimes paid nearly half the rent in bartered helicopter services.
Weichselbaum lived in Trump's apartment during the pendency of his criminal case, which concluded with his sentencing in November 1987 and his prison surrender in January 1988. Though Weichselbaum avoided trial by pleading guilty to two felony counts, court documents and hearing transcripts provide a detailed account of what prosecutors termed his "extensive drug activity."
Weichselbaum's assorted felonious entanglements did not trouble Trump, who had developed a
business and personal relationship with the convicted narcotics trafficker, a tie that would continue after Weichselbaum's release from prison.
According to federal agents, Weichselbaum (seen at left in a recent selfie) purchased kilos of cocaine from two Colombian brothers, Francisco and Walter Ramirez, who operated from Miami. He would then supply the cocaine to customers, with transactions occurring in the parking lot of a shopping center, in front of a North Miami jewelry store, or at Bradford Motors, the car dealership where Weichselbaum was an officer.
One drug mule told investigators that she once met Weichselbaum outside the dealership, where his Mercedes was parked. Weichselbaum, the courier recalled, removed a kilo of cocaine from the trunk, and then gave her the narcotics and $200 for a plane ticket to Cincinnati. Before parting, Weichselbaum advised the woman "to be careful," one federal agent testified.
Another coconspirator recalled meeting in Weichselbaum's Miami condo, where the narcotics trafficker retrieved money from his mattress for his visitor. On one occasion, agents learned, a Weichselbaum client mailed a $30,000 payment for cocaine to Bradford Motors. But the customer forgot to address the package to Weichselbaum's attention, IRS Agent Leo Rolfes testified. So, "a secretary opened the package and the money spilled out on the floor," Rolfes said.
Investigators also developed evidence that Weichselbaum trafficked thousands of pounds of marijuana, some of which was smuggled to New York. Weichselbaum's indictment included details of a 1500-pound transaction during which he provided a van to transport the pot and a Pompano Beach warehouse where the marijuana could be broken down and "loaded into vehicles for further transportation," testified Agent George Fritz.
Weichselbaum's organized crime connections were also probed by federal and state law enforcement agencies.
A convicted marijuana dealer who was expected to be a witness against Weichselbaum at trial told federal officials that he feared for his life due to Weichselbaum's relationship with Daniel "Fat Danny" Laratro, a mob associate who ran a Pompano Beach salvage yard when he was not trafficking large quantities of marijuana.
The prospective witness and another dealer told federal agents that Weichselbaum indicated that Laratro, whose father was a Luchese family captain, was his "heavy" or "his muscle, his force." The Laratro connection, Agent Rolfes testified, left one of the men "afraid of Mr. Weichselbaum."
Weichselbaum, investigators learned, was friends with Joseph "Joey Ip" Ippolito, another Mafia-connected narcotics trafficker. Like Weichselbaum, Ippolito was a speedboat
racer who also peddled cocaine.
In March 1981, after Ippolito's co-driver, Joel Halpern, died in a crash on Lake Ponchartrain in New Orleans, Weichselbaum reportedly dispatched a plane to return Ippolito and his crew members to Florida. Three days after the accident, Ippolito traveled to New York to attend the funeral and burial of Halpern (who was a friend of the Weichselbaum brothers).
According to a police report obtained by TSG, Ippolito, pictured at right, was picked up at a Manhattan heliport by none other than wiseguy John Staluppi's personal chauffeur, who was dispatched to shuttle Ippolito to the services and Halpern's Westchester home. Like Weichselbaum, Staluppi had raced speedboats and would one day shuttle Trump's high rollers to Atlantic City via his helicopter service.
* * *
Immediately following his indictment, Weichselbaum sought to negotiate with prosecutors. He first met with federal agents at a Kentucky airport to detail his narcotics trafficking, an off-the-record proffer session attended by one of Weichselbaum's many lawyers.
Weichselbaum eventually cut a plea deal and cooperated with Drug Enforcement Administration agents investigating narcotics trafficking rings. But while he was indicted in Ohio, that was not where he eventually pleaded guilty to felonies that carried a combined maximum penalty of 18 years in prison.
In a motion seeking to transfer the case to the Southern District of New York (which includes Manhattan, where Weichselbaum resided) or the Southern District of Florida (which includes Miami), the felon's lawyers argued that Cincinnati was not a convenient locale or "the center of gravity of the case." Additionally, many of Weichselbaum's potential character witnesses were said to live in New York and were prepared to attest to his "substantial reputation as a legitimate and successful businessman."
Though the venue change was opposed by federal prosecutors, the case was transferred out of Ohio (years later, the prosecutor who handled the case is still unsure why the matter was removed). But instead of landing in New York or Florida, the Weichselbaum prosecution was sent to the federal court in Newark, New Jersey, where it ended up on the docket of Judge Maryanne Trump Barry, the oldest sibling of Donald Trump.
Within three weeks, however, the Weichselbaum case was reassigned from Barry to Judge Harold Ackerman. The judicial order shifting the case--which was signed by the district's chief judge--offered no explanation for the abrupt transfer.
The character reference letter that Trump wrote was submitted by Weichselbaum's counsel to Judge Ackerman, who subsequently sentenced the cocaine trafficker to three years in prison. When Weichselbaum surrendered to begin serving his time, he was in the final month of his two-year lease on Trump's 32nd floor Trump Plaza apartment.
While Weichselbaum was locked up in the Metropolitan Correctional Center in lower Manhattan, his girlfriend purchased a pair of adjoining apartments on the 49th floor of the Trump Tower condominium on Fifth Avenue. The deed to the multimillion dollar combined residence--17 floors below Trump's own penthouse spread--was in the name of Ronee Teitler, who bought the apartment from a Texas corporation.
According to records, Weichselbaum served about 18 months in the Manhattan lockup, where he worked in the business office. Upon his release, Weichselbaum spent about six months in a halfway house before being formally released from Bureau of Prisons custody in January 1990. He then joined Teitler in the couple's Trump Tower aerie.
While ensconced in the Fifth Avenue skyscraper, Weichselbaum was frequently required to meet with his probation officer. Along with answering questions about his finances, IRS debt, and employment, Weichselbaum spoke often about Trump, his upstairs neighbor. In fact, Weichselbaum told his probation officer about Trump's
extramarital relationship with Marla Maples long before news of the affair hit tabloid front pages.
Weichselbaum's Trump Tower residency ended in 1994, when a California bank foreclosed on a $1.7 million mortgage issued to Teitler. Though the convicted drug trafficker's name did not appear on mortgage or deed records, the foreclosure action's defendants included "Wexel Baum and Mrs. Baum," who were identified as the apartment's residents.
Weichselbaum would subsequently begin a relationship with an interior decorator, and the couple would settle with their daughter in a 14,000-square foot Hamptons compound. The 1.25 acre property, held in the name of Weichselbaum's companion, has eight bedrooms, a tennis court, indoor and outdoor pools, a billiards room, and a home theater. On the web site of Weichselbaum's pool contractor, he is described as a "semi-retired engineer" who oversaw the building of the Water Mill home.
The residence, which has been the subject of foreclosure proceedings, is listed for sale at $10.8 million.
By all indications, Weichselbaum has long sought to maintain a low profile, with a few exceptions. Until his move west, Weichselbaum was a regular at Rao's, the East Harlem restaurant for which it is impossible to get a reservation. Weichselbaum dined at the Italian eatery--a favorite of wiseguys and celebrities--with friends that included the former co-president of the Ford modeling agency. On occasion, Weichselbaum's Thursday night reservation was auctioned off at the annual fundraiser for his child's East Hampton private school.
As for Weichselbaum's current business pursuits, they appear to be a mystery to his own daughter. In response to a reader's question about her father's occupation, the college freshman recently
wrote on her Tumblr page, "i'm not 100% sure haha, his company just invests in a bunch of different businesses."
According to a businessman who has litigated against a firm that operates a large collection of adult-themed web sites, Weichselbaum is an investor in the company.
Weichselbaum's son Eric--a convicted felon who was sentenced to 46 months in federal prison following a 2004 conviction for bilking investors--runs a separate L.A. company featuring X-rated web cam performances. In a brief interview, the 46-year-old Weichselbaum--who uses the name "Eric Wexel" professionally--denied that his father had an investment stake in his sites, which include freewebcams.com.
In a 2007 court filing in his son's fraud case, Weichselbaum described himself as retired and in poor health due to multiple spine surgeries that "hampered my ability to travel by plane" to visit his son in California. By 2009, however, Weichselbaum had recovered enough to arrange family vacations to Aspen, Colorado and a Christmas trip to Hawaii.
Weichselbaum wrote to the court about his travel plans because his son was on probation and needed judicial permission to travel outside California. Additionally, since Eric owed $2.4 million in restitution, Weichselbaum had to assure a judge that he was footing the entire vacation tab.
When Weichselbaum travels to Aspen, he stays in a slopeside condo at the Ritz-Carlton Club. Like all his residences, the timeshare's deed is not in Weichselbaum's name, but rather that of his longtime companion (from whom he recently split). After Weichselbaum was arrested, a criminal associate who cooperated with investigators remarked that the trafficker was "judgment proof" because he never placed assets in his own name.
During a trip last year, Weichselbaum posed for a photo standing in front of Stash, one of several Aspen dispensaries selling recreational marijuana in the ski haven. Uploaded to his daughter's Instagram page, the image has received nearly 300 "likes." (26 pages)