Buster
TMZ Pays Ron Goldman's Family $150,000 For Pilfering O.J. Book
Usually, when the gossip web site TMZ shells out six figures in connection with an "Exclusive" story, it has paid someone for court evidence or a photo of a battered woman.
However, last month the site quietly signed an agreement to pay $150,000 to the family of Ron Goldman, the California man who was killed alongside Nicole Brown Simpson in 1994, to settle a copyright claim filed by Goldman's survivors.
The action stemmed from TMZ's publication, in its entirety, of "If I Did It," O.J. Simpson's purportedly fictionalized account of the brutal slaying of Goldman and the ex-athlete's former wife. Simpson, of course, was acquitted of murdering the duo, but lost a subsequent wrongful death lawsuit and was ordered to pay $33.5 million to the families of his ex-wife and Goldman.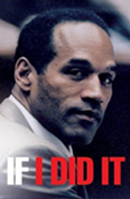 By the time Simpson sought to publish "If I Did It" in mid-2007, that debt had grown to roughly $38 million, and he was desperately trying to shield his assets from seizure by Goldman's family, a pursuit led by the dogged Fred Goldman, Ron's father.
In short order, a federal judge awarded the Goldmans the copyright to "If I Did It," which the family planned to publish (and promote) as Simpson's actual confession to the double homicide. But before that could happen, TMZ posted a PDF of the entire 235-page book.
A galley of the book had been circulating on file sharing sites like The Pirate Bay and RapidShare, and TMZ apparently just grabbed a copy for its red-bannered exclusive (the PDF posted on the gossip site included a TMZ watermark on every page of the book, including atop the copyright notice). At the time, a Goldman family attorney charged that TMZ "literally reached into the bankruptcy estate and stole this asset for its own profit."
Last month, TMZ paid for its pilferage, when a settlement agreement was struck between the web site and the Goldmans (and a court-appointed trustee). The $150,000 payment, though, made barely a dent in the eight figures owed by Simpson, who is now serving time in Nevada for armed robbery and kidnapping.
The Goldman-TMZ agreement included a "confidentiality and publicity" clause barring either party from disclosing terms of the settlement--though they could publicly say the case was "amicably resolved." The confidentiality clause can be found below (click to enlarge). The gag order, at least on TMZ's part, was probably not necessary, since the site is likely not eager to report on its purloining of "If I Did It."