Buster
Iowa Police Seek Public's Help In Armed Robbery Of $250 "Mega Masturbator"
In a bid to capture the armed robber who last month stole a $250 sex doll from an Iowa City adult store, police today released a surveillance photo showing the suspect making off with the item.
Seen above, the image shows the ski mask-clad man carrying the sex doll inside the Romantix Pleasure Palace shop at around 3 AM on January 12.
Before releasing the store surveillance photo, cops pixelated it to obscure explicit images on the box of the "Fuck Me Silly #1" model "mega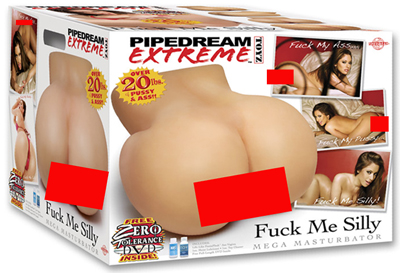 masturbator." As previously reported, the stolen 20-pound sex doll is described by its manufacturer as "the most realistic piece of ass you ever fucked...Slap that big round ass and listen to the whack...it sounds and feels just like a real ass!"
According to police, the robber displayed a large hunting knife to a Romantix employee before leaving with the sex doll (the box for which is seen above). Cops described the suspect as a "white male, approximately 5'8" - 5'10", 165 lbs."
In return for information leading to the man's arrest, Iowa City Area CrimeStoppers is offering an award of up to $1000.