Buster
Cops: Incensed By Judge Judy, Florida Woman, 62, Attacks Husband, 65, With Hammer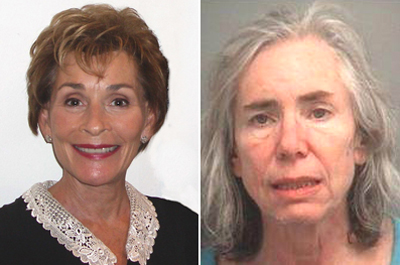 A Florida woman who reportedly became incensed while watching TV's Judge Judy was arrested Sunday after she allegedly struck her husband on the head with a hammer.
Janet Knowles, 62, was charged with aggravated battery following the bizarre 10:30 AM incident at a residence in Jupiter. Knowles, seen in the above mug shot, is locked up in the Palm Beach County jail in lieu of $10,000 bond.
According to a Jupiter Police Department report, she attacked Larry Knowles, 65, since "she was upset because Judge Judy was on the television," and "Larry was watching Judge Judy and that made her mad." The syndicated program stars Judith Sheindlin, an irascible former New York jurist.
The report does not specifically indicate why Knowles was so upset about Judge Judy, who is pictured above. The victim, who was seated in a recliner when twice hammered, suffered large cuts to his head and forearm, according to cops.